Neapco Performance
Series U-Joint
Leading Competitor
U-Joint
Trust Neapco -
We Outperform the Leading Competitor in
Every Series Tested. The Numbers Don't Lie!
Test —

1310
Neapco Part# 1-0153P
Test —

1330
Neapco Part# 2-4800P
Test —

1350
Neapco Part# 2-0053P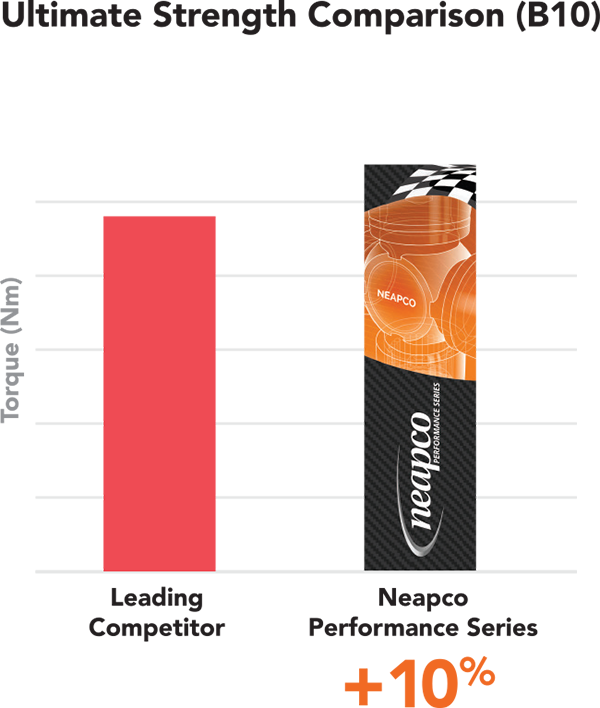 Test —

1410
Neapco Part# 2-0054P
Neapco Performance Series
Universal Joints
Neapco Performance Series Universal Joints are the next generation of u-joints and outperform the leading competitor's joints in ultimate strength and fatigue tests. Neapco Performance Series U-joints achieve this exceptional performance by paying close attention to the details that make big differences:
• Enhanced design thrust washer with a low-friction additive to the material decreases stick-slip and provides lower heat generation, friction, and wear due to new geometry.
• Increased trunnion diameter for optimum strength. The addition of a needle bearing and a reduction in grease reservoir depth increases the overall strength and improves stress distribution along the trunnion.
• A quad-lip seal prevents grease purging and outside contaminants from entering the u-joints.
• Revolutionary Journal /Spider Body Design is re-engineered to provide smoother transitions, ultimately decreasing stress risers throughout the u-joint while the proprietary, in-house heat treating provides Beast Mode strength and durability in all the right places.
• Neapco Performance Series Ultra-Performance Synthetic U-Joint Grease provides superior durability, greater water resistance, and is stable across a wide range of temperatures.